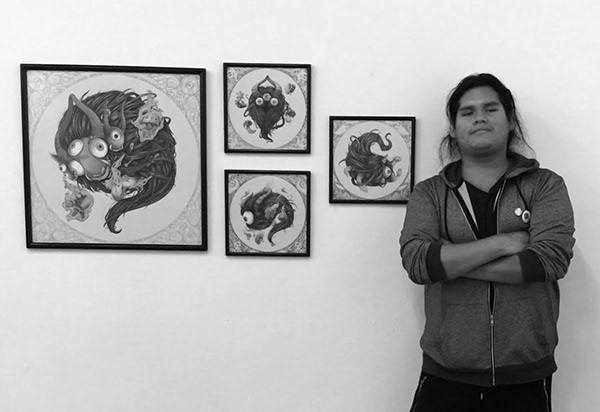 Nathaniel Rueda (AKA: MUTE) is a South American illustrator, born and raised in Lima, Peru. Growing up he had an interest on the arts, especially illustration, comics and animation, gathering some early influences from 90's anime (which was broadcasted on national television) and comic books. These influences led him to eventually pursue a career in that area. After studying graphic design for 5+ years he realized that this was not doing much for his passion for drawing character driven artworks, which led him to try to get himself into the illustration business by his own means.
After some time of doing freelance illustration work as a part time way to make some cash, he got what he considers his first big moment and opportunity, when he was accepted onto the Pictoplasma Academy 2015 in Berlin, where he further developed his craft and style.
His work gathers influence from a variety of sources such as music, old bad movies, videogames, ancient and modern Peruvian culture and a fixation on paranormal topics. His style can be described as detailed, character centered, focused on movement and (as of lately) with an emphasis on color.
Nathaniel is currently working as a freelance illustrator.
Behance Reviews Lima Week 10 - Lima, Peru (October 29, 2016)
11vo Coloquio de Alumnos de Diseño Gráfico PUCP  - Lima Perú (October 28,2016)
Natsumatsuri 2017 - Lima, Peru  (February 25th, 2017)
Exposición Egresados de Diseño Gráfico PUCP  - Lima, Peru  (June 17th) (Group Show)
Pictoplasma Academy 2015 All Stars Group Show - Berlin, Germany (May, 2016) 
2017 Bikeart Exhibition - Athens, Greece  (Group Show)
PopTales - DasGhost - Berlin, Germany (Group Show)
-ING 2017 Festival - Dubai, United Arab Emirates (as Exhibiting Artist)
​​​​​​​